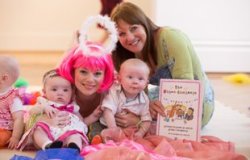 Over 60 children and adults attend Rhyme Challenge event at Ulster Museum, Belfast
Polly Poppet entertained children from Fleming Fulton School, Glenbrook Sure Start and invited guests. The morning event was great fun as the children joined in singing and acting out the rhymes they have learned as part of the Challenge.
The Rhyme Challenge, which runs in early years settings, aims to encourage a love of rhymes and early poetry from a young age. Children learn up to ten rhymes with their friends at nursery or playgroup and then share them with all the family at home.
'We are really enjoying The Rhyme Challenge. Through learning the rhymes we have learned new signs and symbols. We have also used instruments and our hands to learn different beats. Best of all we are all looking forward to dressing up and performing our rhymes in assembly.'

Anne-Marie Gallon, teacher, Fleming Fulton School
'Rhymes are an integral part of the work that we do, from one-to-one sessions with parents through to our song, rhyme and storytimes in Ardoyne library. We believe rhymes are key in supporting children's language development, social interactions and future learning. Best of all it is a fun activity that the whole family can participate in and enjoy.'

Caroline Milligan, coordinator, Glenbrook Sure Start
Damian Smyth, Head of Literature and Drama at Arts Council Northern Ireland said:
We are delighted to be able to partner with Book Trust NI in this wonderful initiative. Rhyme is one of the building blocks of creativity and the record shows The Rhyme Challenge is a great way for children to share the joy of words among themselves - and with their parents too!
Liz Canning from Book Trust commented
'Using The Rhyme Challenge can help facilitate a love of nursery rhymes and early poetry and we are grateful to the Arts Council of NI for recognising this and funding the project. We know that great rhymers make great readers, and encouraging parents and carers to share stories, books and rhymes can radically improve a child's language and communication skills.

About The Rhyme Challenge in Northern Ireland
Sure Starts, playgroups and nurseries are involved in The Rhyme Challenge throughout Northern Ireland, which is run with funding from Arts Council NI. By autumn 2013, more than 3,500 children will have taken part.
Get involved with The Rhyme Challenge at your children's centre, nursery or playgroup
10 June 2013