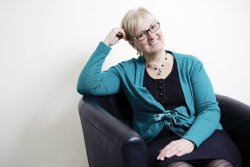 Viv Bird, CEO of Book Trust, on our campaign that celebrates 20 years of Bookstart.
Today we launch a nationwide campaign to celebrate 20 years of Bookstart. We'll be celebrating everything that the programme has achieved, including the 30 million free books that we have been able to gift since babies first started receiving packs in 1992.
This year we are asking Bookstart supporters to pledge to share 20 books with children in 2012. (Of course, we'd love you to share more if you can!). The pledge postcard is available in libraries and children's centres in England, Northern Ireland and Wales, and you can also head to the Book Trust website to pledge online.
Making the pledge is a simple way for people to get into the habit of reading with their children and show support for Bookstart. The routine of sharing books, stories, songs and rhymes with babies helps to build pre-literacy skills as well as providing a unique opportunity for parents and carers to build a strong and loving bond with their children.
High profile supporters
Twenty well-known faces – including HRH The Duchess of Cornwall, Coleen Rooney and War Horse author Michael Morpurgo – have made a pledge to share 20 books in 2012 too. Along with their pledge, the celebrities have also revealed their favourite books to share with children, which range from Dickens' classic Great Expectations to classics-in-the-making like Andy Stanton's Mr Gum series.
We also have the support of children's author and former Children's Laureate, Michael Rosen; Book Trust online writer-in-residence Bali Rai; comedian and star of the hit sitcom Outnumbered, Hugh Dennis; singer and television presenter, Aled Jones; and current Children's Laureate and author of The Gruffalo, Julia Donaldson.
We have a year's worth of activities and exciting news to keep you all sharing books. In fact, the Bookstart Bear has pledged to share 20 books. I have two favourite books to share: like Jacqueline Wilson, I love Where the Wild Things Are, and I also have a very soft spot for The Elephant and the Bad Baby by Elfrida Vipont. I've made my pledge and can't wait to get started. Why don't you?
Happy Birthday Bookstart!
Viv Bird, Chief Executive of Book Trust
15 February 2012