Free Bookstart packs for young children
Please ask at your local library if you haven't received the Bookstart Baby pack by the time your child turns one, or the Treasure gift before they turn five.
Bookstart Baby pack
Your health visitor, or other health professional, should gift this purple bag in your baby's first year to help you share stories, rhymes and songs.
The content varies, but will include two board books, a rhyme sheet and a booklet of tips and ideas for sharing books.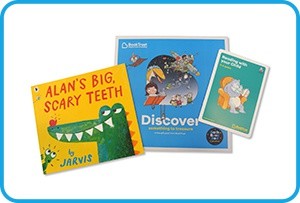 Bookstart Treasure gift
Your preschooler will receive their special gift envelope when they are 3–4 years old, from their nursery, children's centre or other early years setting.
Inside is a picture book for you to share, plus a friendly booklet with tips and ideas for reading together.

Keep your home language alive by sharing stories, books and rhymes with your child.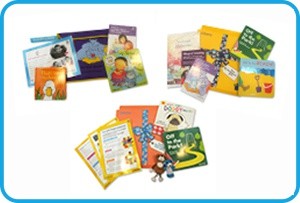 We offer packs and resources alongside the Bookstart Baby pack and Bookstart Treasure gift:
Resources for Wales and NI
Every child in Wales receives two Bookstart packs. Pack funding is currently unavailable in Northern Ireland, but we still support families.